With Search Engines becoming a source of information for millions over the world, advertising through them has become almost an industry norm. However, not all business think Search Engine Marketing or SEM, is their cup of tea. Well, we are here to tell you differently, for they couldn't be any more wrong. So in today's blog, we will talk about the basics of Search Engine Marketing and its need for businesses like yours. The experts at Agkiya Media offer a few key search engine marketing strategies which should be helpful if you are just getting started. So without further ado, let's get started!
What is Search Engine Marketing

With the increasing competition, it becomes harder and harder for small businesses to compete with its larger counterparts. Since the bigger businesses have an army of top-notch Digital marketers at their disposal who continually rank their website copy on Google through organic SEO techniques, small businesses are going out of business daily. However, with the right Search Engine Marketing strategies, any business can rank higher than its competitors on Google search results. And consequently, small businesses get a higher revenue margin and can compete with bigger businesses and most importantly, keep growing. Still not convinced if you need to advertise your business on Google? Or maybe you don't think an online presence is even necessary for your business to grow. Well, keep on reading and let's see if you are still unconvinced, shall we?
Does your brand need Search Engine Marketing?
As the Internet grew in the early years of the 21st century, marketing practices evolved as well. With the internet came Search Engines, and after that, the world was never the same again. You could find what you needed at a few strokes of the keyboard, and that was it. Nowadays, we don't even go to a restaurant without reading about it first on the internet, and why should we not, when we can?
And just like that, millions might be searching for your business on Search Engines as well, and you, you are still deciding if you'd like to advertise your business on one! There is absolutely nothing which should stop you from getting your brand online and being easily reachable for your potential customers. WIth the right SEM strategy, not only can you get your business highly ranked on Google, but get higher revenue through it as well. To know more about the best Search engine marketing strategies out there, scroll down and continue reading.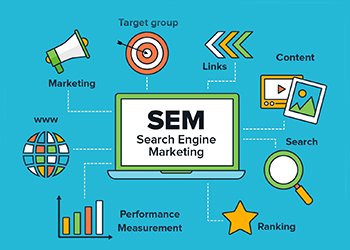 The best Search Engine Marketing strategies out there
Choose the right keywords
If you are marketing a small business, chances are that you will be outbid by bigger companies in your niche for high priority keywords. The best way to counteract their big budgets is by targetting keywords that will bring the most leads to your business. These keywords can be keywords that your competitors are not yet fighting for, or they may be Long Tail LSI keywords that have too much Cost Per Click (CPC) budget for any one company to target for. Since Long tail keywords have a lower traffic volume that the high priority ones, the bigger companies won't waste their time on them. This way, you won't have to waste your money on ads that won't bring leads and instead, you create ads for keywords that will.
Know your audience
This is one of the most important points to keep in mind while setting up a search engine marketing campaign. Before setting up an ad campaign, ask yourself these questions: "Who are my potential customers?" "What would my potential customers be searching for? "What content will speak to them?". We at Agkiya Media have found that answers to the above questions hold the key to a successful marketing campaign. Armed with answers to these questions, you will know the keywords your potential customers search for, and you can go on and create ads for those keywords to rank higher and get better leads.
Create an engaging ad copy
If you are a small business fighting for a high priority keyword with a bigger competitor, you might want to focus on your content more. If you can't outbid your competitors for a keyword, having a great content piece to go along with it will enhance your chances of getting leads.
Choose your budget wisely
You wouldn't want to spend all your ad budget on a single keyword, right? So it's important that you decide the budget for each keyword you want to fight and rank for keeping in mind the revenue each advertisement can generate for your business. For eg, if you are a food startup in Patna, you would want to spend more money on an ad with the keywords "new places to eat in Patna" instead of an ad with the keywords "the best place to eat in Patna". The latter selection of keywords will most likely lead to a competitor's website which has a higher ad budget than yours, and this will not be beneficial for you. So, if you have limited ad money, target long tail keywords that will bring the highest lead conversions for your business.
Need an expert? The best company at Search Engine Marketing in Patna is here!
If you are looking for an expert to handle your Search Engine Marketing for your business, Agkiya Media is the way to go. The best Digital Marketing company in Patna, we at Agkiya Media excel at getting your business highly ranked on Google and generating high quality leads for our clients. With an amazing portfolio of clients, and with a dedicated team of digital marketers working with us, we at Agkiya Media are a one-stop solution for all your Digital Marketing needs. To have a look at the services we offer, click here.